Ecosystem For Enterprise Development
Rural Enterprise Acceleration Project
Key Strategic Initiatives
At ILSP we adopt two way approach for building livelihoods in rural hill districts, which includes backhand support in developing food production systems for rural household, which is main source of livelihood generation and generating cash incomes by suporting non farms activities, through communities.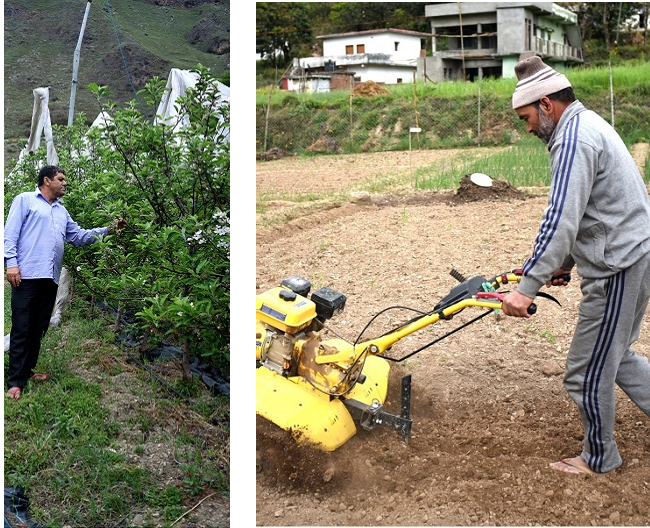 Infrastructure Related Initiatives
Backhand infrastructures are created to store and reduce wastage and spoilage of harvest from village to cluster level.  They also help in creating the space and identity to the Federations. Following are the main backhand structures created under ILSP.
Collection Center –At present 144 (134 Component 1, 10 Component 2) collection center are operationalized, 33 (3 Component 1, 20 Component 2) are under construction and will be operational by May 2019. Project has been planning to upgrade collection center through convergence.
Small Collection Center –At present 594  (557 Component 1, 37 Component 2)  village storage centers or small collection centers are operational, and used for storage of rural produce, milk-collection center, village meeting, etc.
Cool Chambers –8 cool-chambers of 4-5 ton capacity were initiated in the project at district head quarters. Cool-chambers in Almora, Bageshwar, Chamoli, Tehri, Uttarkashi, Dehradun, Rudraprayag and Pithoragarh, have been constructed and operationalized.
Hilans Retail Outlets – Under the supply chain management, a chain of outlets (1 state level outlet at Dehradun, 11 Kisan Outlets at district headquarter, 133 at cluster level) are operating successfully which are linked with all livelihood collectives. An outlet has been proposed outside the state in Delhi Haat.
Haat Bazaar – To provide better price of perishable commodity i.e. fresh vegetables, pulses, etc. project promote weekly haat bazaars in different places, with the help of District Administration. LCs/Federations are buying produce from households and selling in Haat Bazaars. Project plans  to upgrade the place of Haat bazaar through convergence from MGNREGA.
Bakri Haat ( A local goat market) -To strengthen backward and forward linkages in Goatry value chain, project organized Bakri Haat on half yearly basis. Goat rearers, buyers, banks, RSETI and line departments are major participants in it.
Nano – Packaging Unit –107 Nano-packaging units have been established at the district and state level. A unit includes equipments like – a Bend Sealer, Weighing Machine, Foot Sealer, Manual Sealing Machine, Hot Air Gun, Cap Sealing Machine, Box Sealing Machine, Bar Code Machine etc. Project has promoted LCs/Federations to establish Nano-packaging unit for consistency of packaging and branding.
Online Marketing – Apart from traditional marketing system, to promote rural produce at global level, project initiated online marketing through AMAZON, Government e Market (GeM) portal and others online channels.
Institutional Marketing – The LCs/federations are linked with ICDS, RUTF, SSB, Hostels and other government schemes and act as a service provider. Under the project, business is being done with variety of Private and public sector players.  Some examples are as under –
Emami purchasing Kutki from SRCs – Example – Roopkund SRC Ghaat, Chamoli
Mother dairy purchasing fruit and vegetables from Pragati SRC, Almora
AMPC Mandi, Haldwani purchasing potato from the federations of Chamoli
FFT Himalayan Fresh Produce Pvt. Ltd – Purchasing Apple in Uttarkashi
Organic India – Purchasing organic millets and traditional crops in Almora
SOS Organics Ltd. – Purchasing Traditional crops like Amaranths, Finger Millet, Barnyard millet, Red Rice Rajma, Soyabean, Gahat and Nettle grass in Almora
Himalayan – Purchasing Off-Season vegetables from Chamoli, Rudraprayag and Uttarkashi
Vinodhara Biotech – Off Season Vegetable (Pea) in Almora (Contract Farming)
Pahari products.com, Delhi – Purchasing rice and pulses from various SRCs
Harvest Wild Organic Solutions Pvt Ltd – Purchasing Soap nuts from Ekta SRC, Pithoragarh
TRIFED – Honey, Manduwa Biscuits from Almora Bageshwar.
Inter federation/ LC Business – Livelihood Collectives also purchase and sell products to each other as per the need of the members. This is in the form of wholesale and retailing.